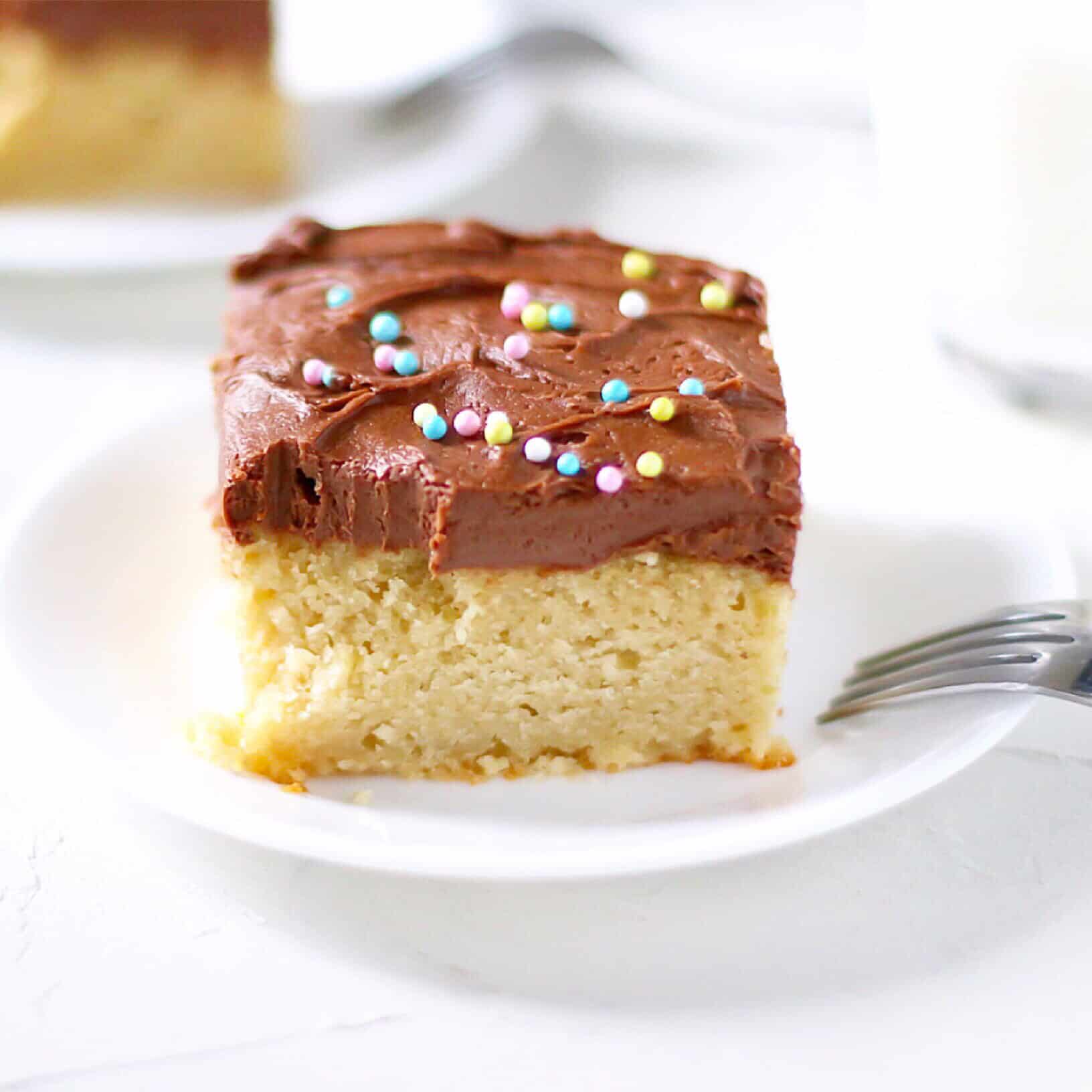 Grain-free, Vegan + Paleo options 💛
Happy Friday, Friends!🎉
My very first birthday cake, or I should say the very first cake I have memory of, was a beautiful and traditional chocolate frosted 2 layer yellow cake. More than likely, of the Duncan Hines variety. It was so delicious looking, that I smashed my 4 year old hand right though it!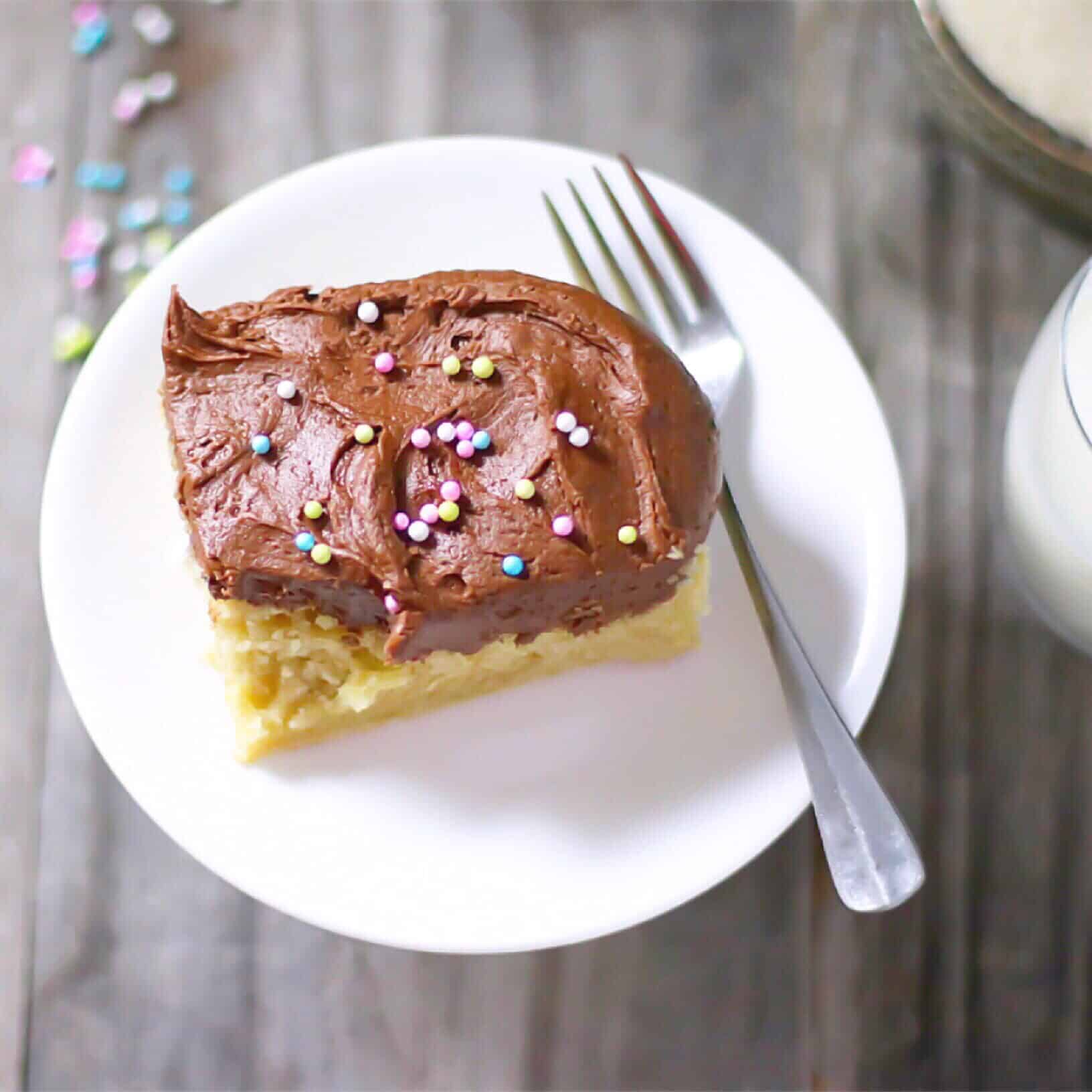 And I would have smashed this one too, except that my age has unfortunately brought with it civilized behavior—which is totally overrated, by the way. All kidding aside, this traditional yellow cake will bring you right back to your youth with it's moist texture + buttery vanilla flavor along with an irresistible rich + velvety chocolate frosting. An absolutely delicious classic!😋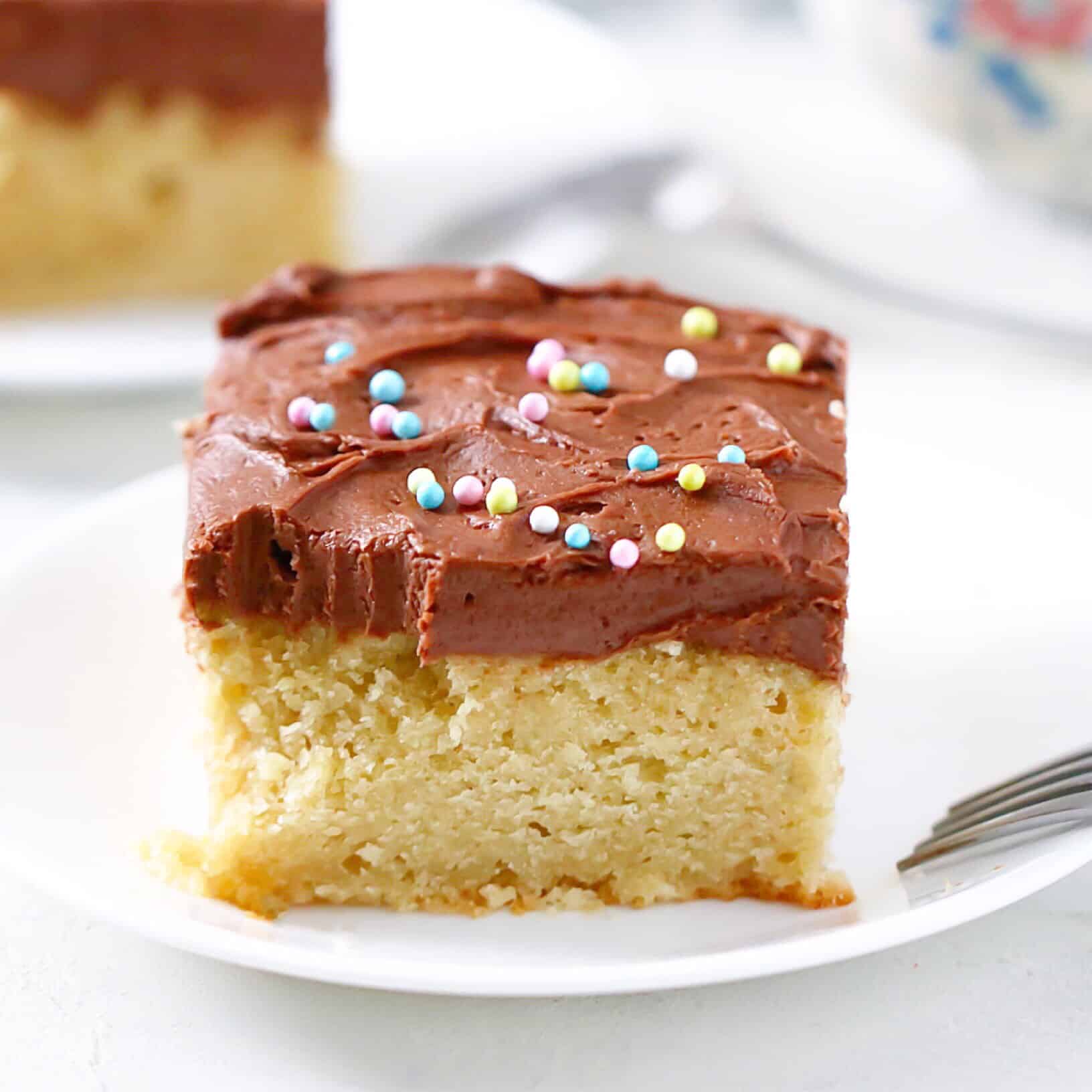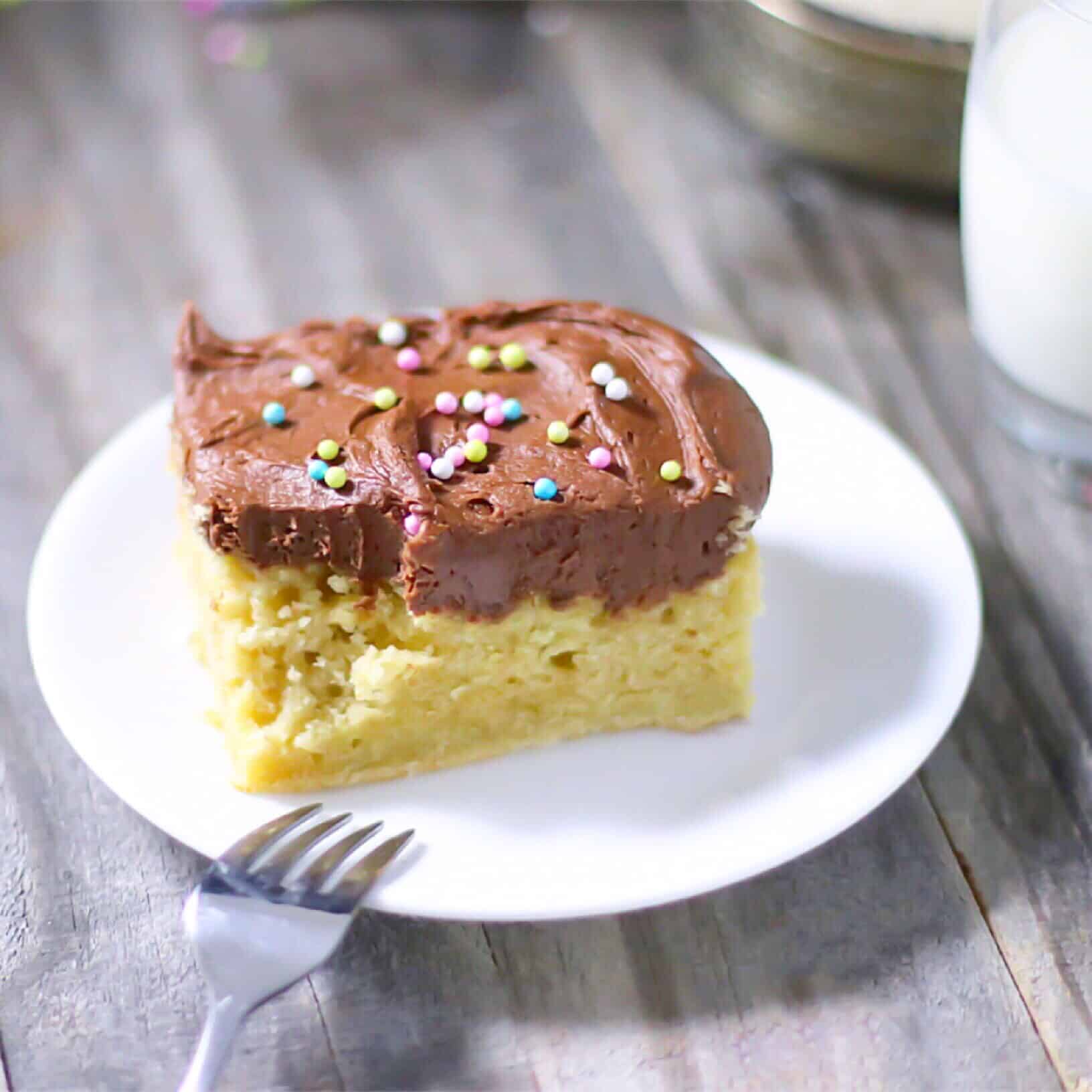 Tips for today:
-The Paleo recipe as well as the Vegan recipes are at the end of the post, just keep scrolling down.
-We used this 8×8 baking dish for the cake pictured.
-Make sure to let your cake cool first before removing it from the pan.
–Color Kitchen makes gluten-free, dye-free sprinkles.
-You can use a drop of yellow food coloring in the cake batter for a true yellow. Color Kitchen has a dye-free variety.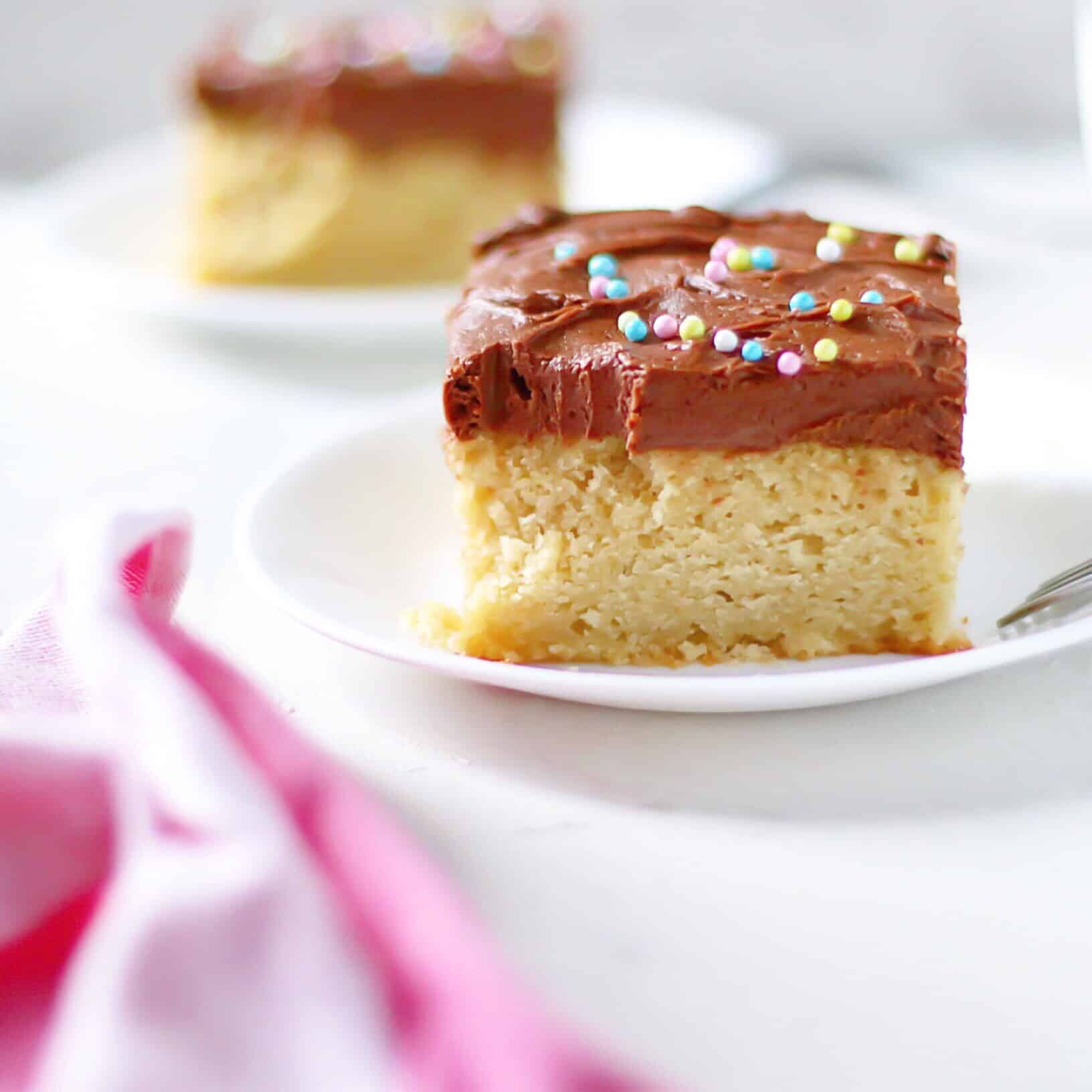 Enjoy the recipe + Happy Baking!😊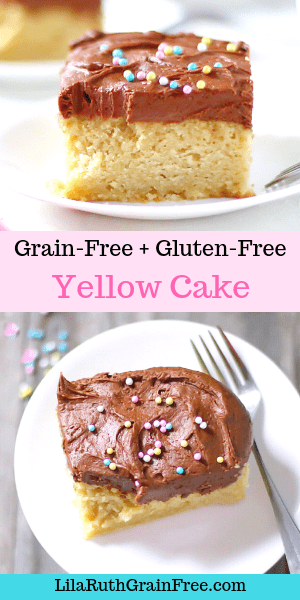 Print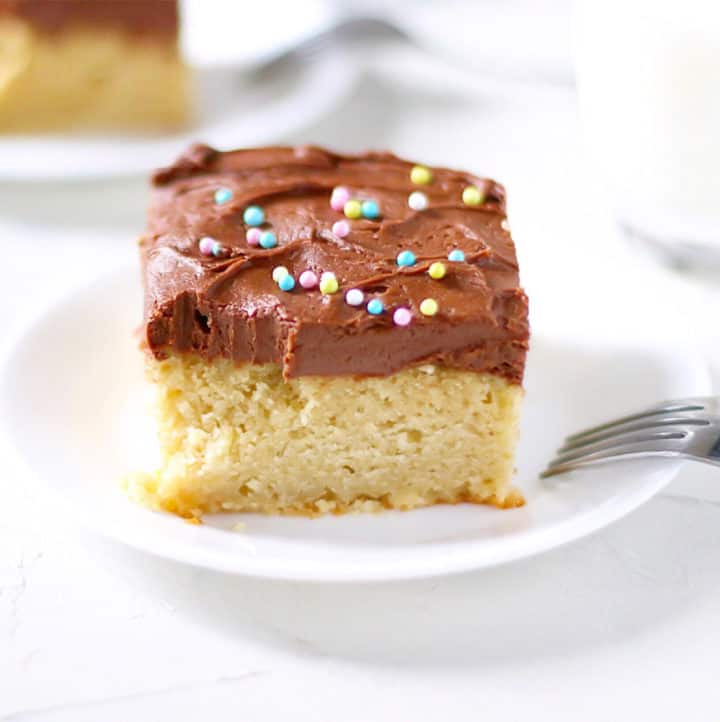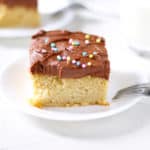 Yellow Cake with Chocolate Frosting
---
Author:

Prep Time:

30

Cook Time:

35 min

Total Time:

about an hour

Yield:

10

slices

1

x
Description
*This is our traditional Grain-Free Yellow Cake, scroll down for paleo and vegan versions or click here for our low-carb yellow cupcakes.
---
---
---
Keywords: grainfree, glutenfree, dairyfree, yellowcake, chocolatefrosting, birthdaycake
Print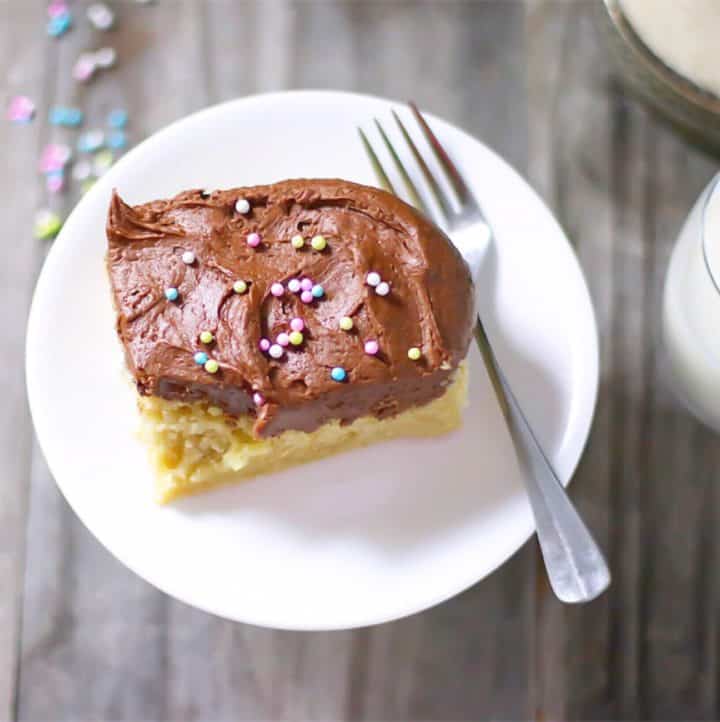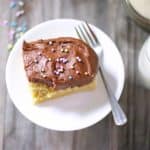 Yellow Cake with Chocolate Frosting (paleo version)
---
Author:

Prep Time:

30

Cook Time:

35

Total Time:

about an hour

Yield:

8

-

10

slices

1

x
---
---
Keywords: grainfree, paleo, glutenfree, dairyfree, yellowcake, chocolate, birthdaycake
Print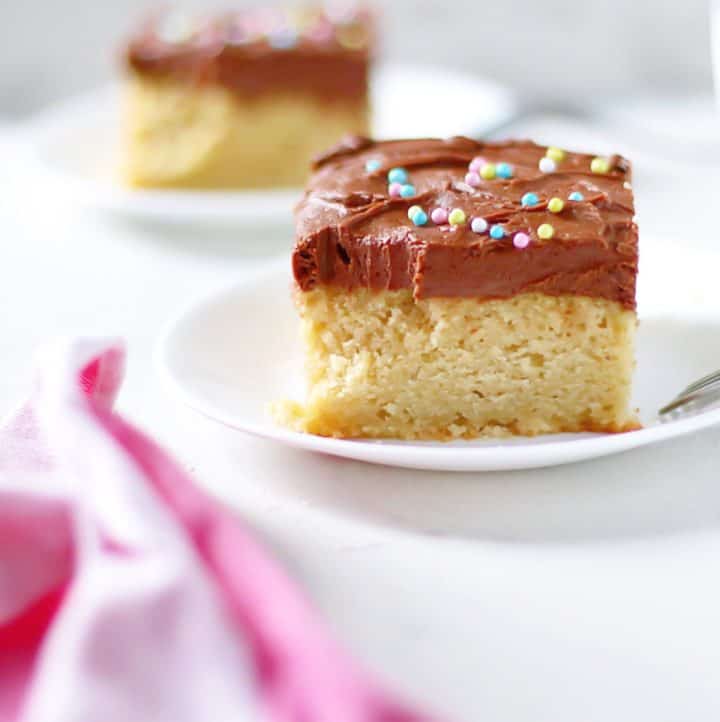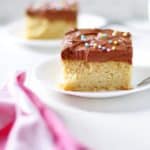 Yellow Cake with Chocolate Frosting (vegan version)
---
Author:

Prep Time:

30 min

Cook Time:

35 min

Total Time:

about an hour

Yield:

8

-

10

slices

1

x
---
---
Keywords: grainfree, vegan, glutenfree, dairyfree, yellowcake, chocolate, birthdaycake