This Grain-Free Chicken + Broccoli Casserole is one of my family's favorite dinners. We love how incredibly delicious and healthy it is, that it's low in carbs and it's a great way to sneak some veggies into a picky eater's diet! 😉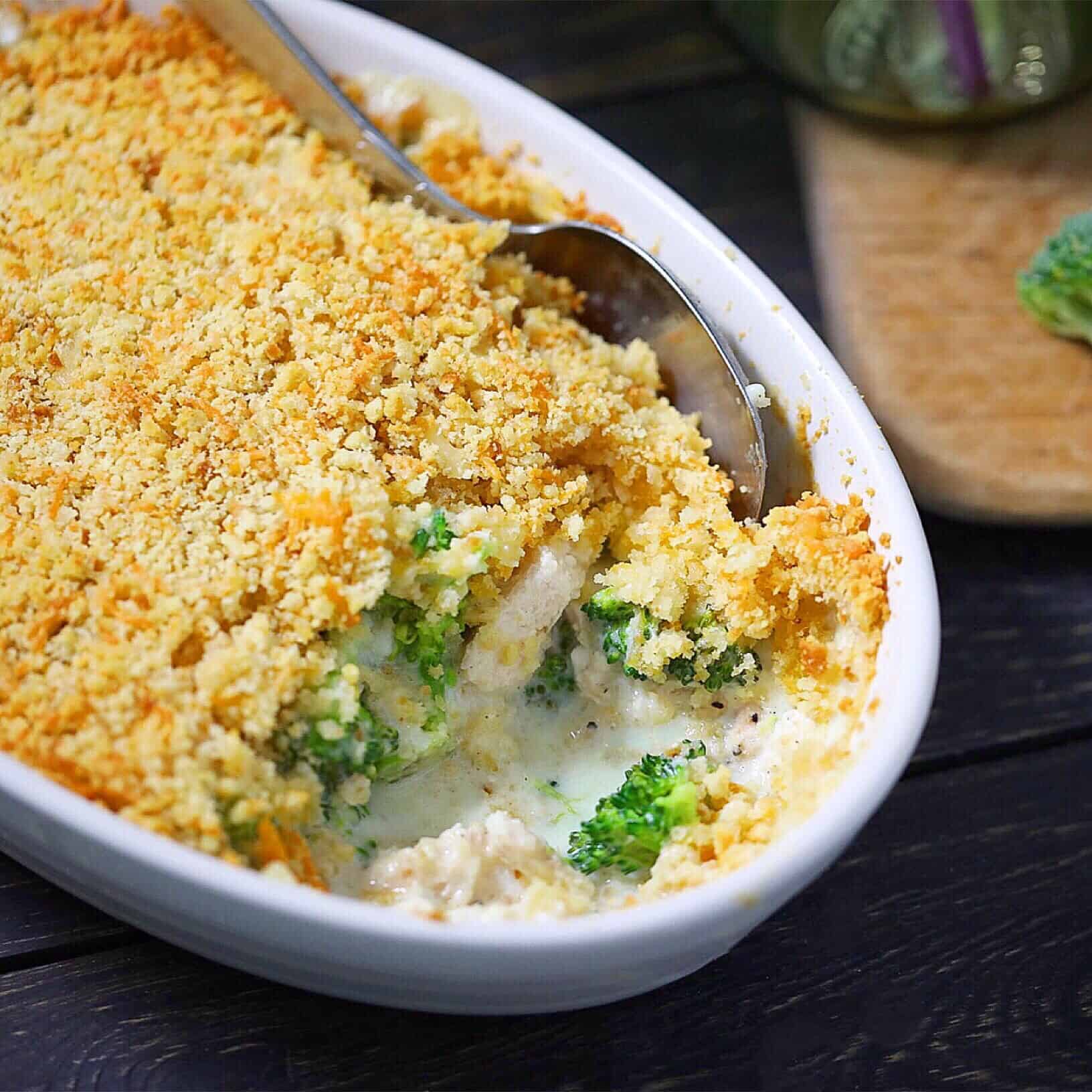 Happy Weekend, Friends!🥦🥦🥦
We're taking a trip to savory town again this week with our chicken + broccoli casserole! And there's more to come–our twice baked jalapeño + cheddar potatoes will be here next week. Clearly we're on a comfort food bender!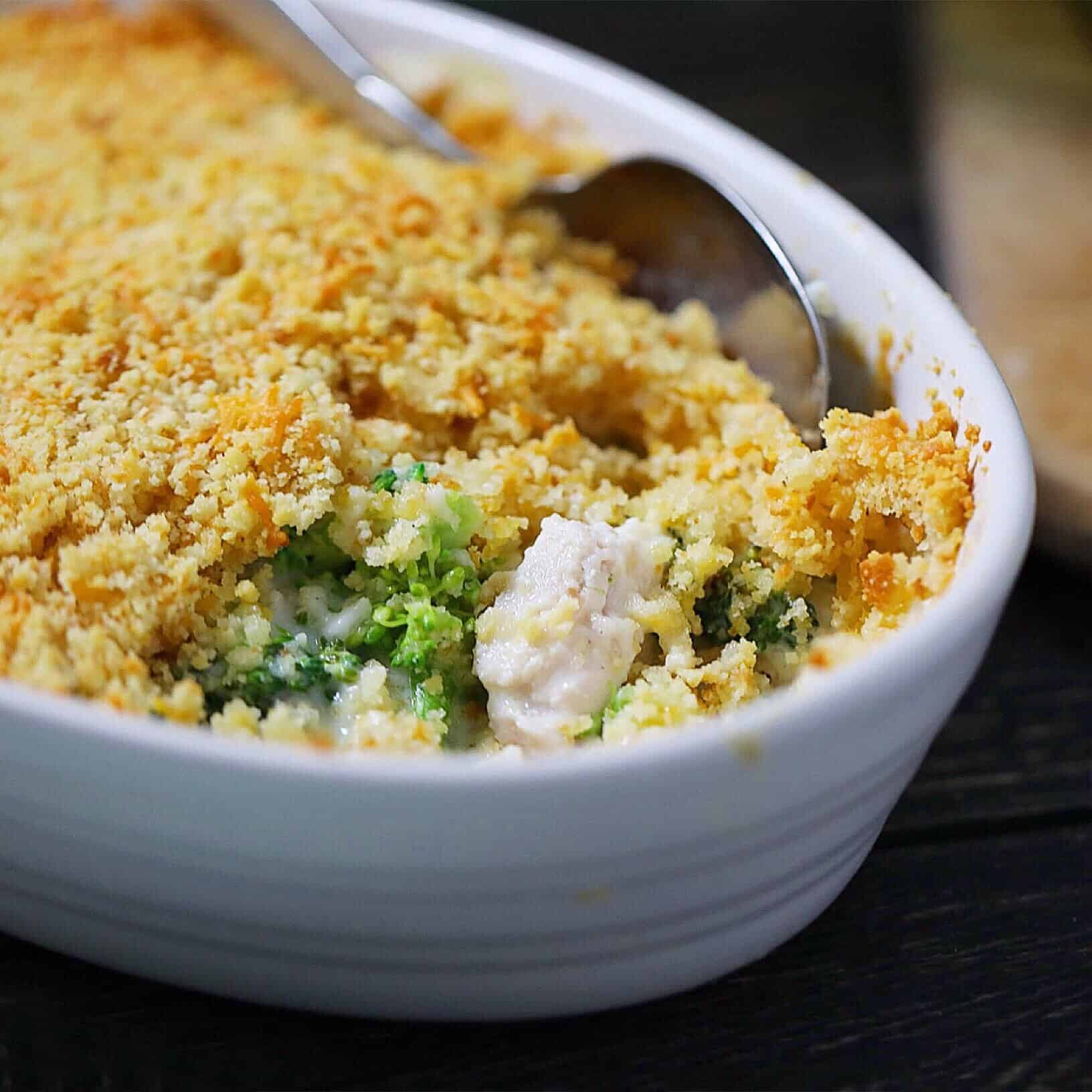 And this dish is comforting, indeed. It's perfect fare for a cool, fall evening–it'll warm you right up with it's soothing, familiar + delicious flavors.😌 This casserole has a savory bread crumb mixture that is doubled to provide a crusty golden exterior as well as a delicious base that adds texture and flavor for the perfect bite every time.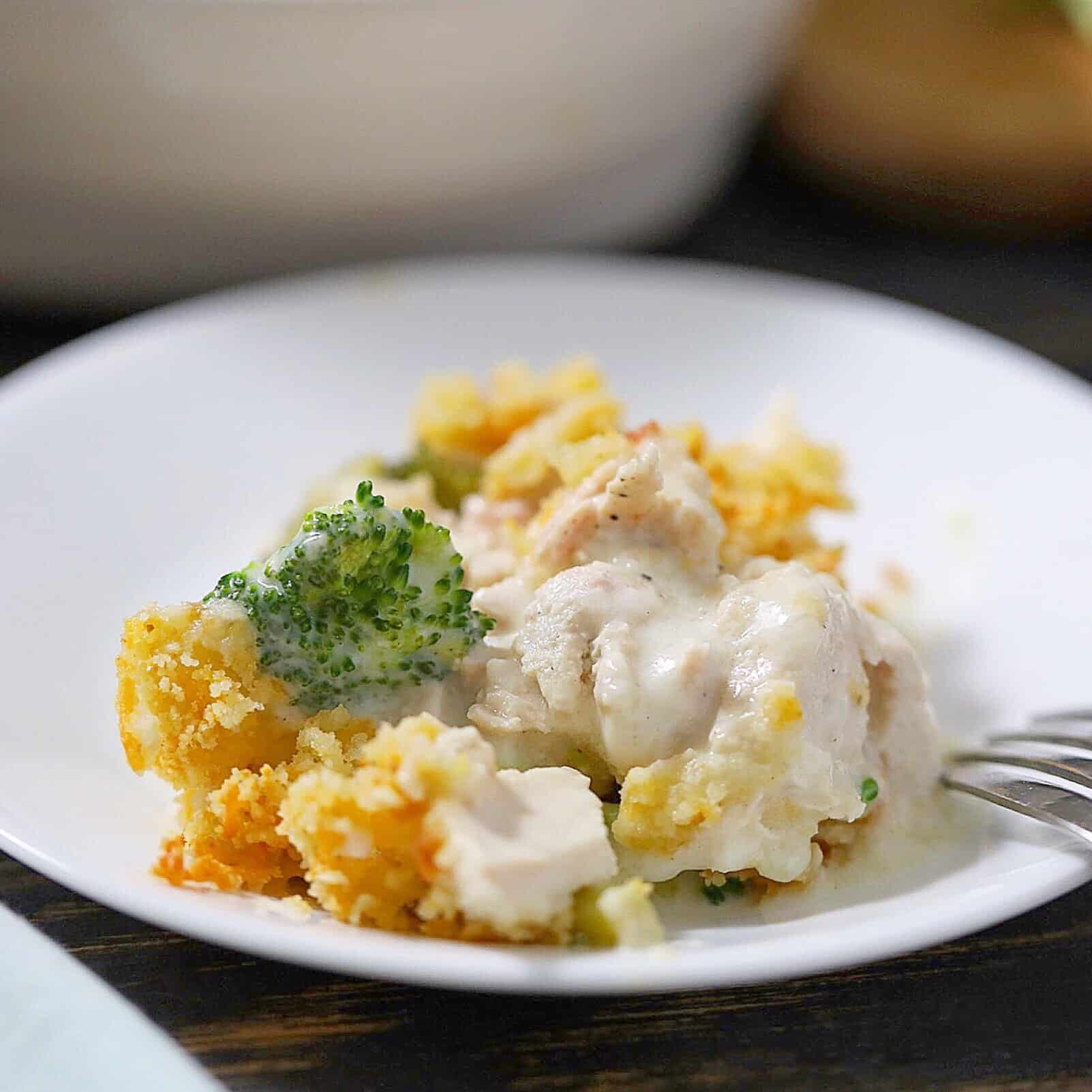 Tips For Today:
-Read through the instructions prior to baking, it will make the process easier and more fun overall!
-You can create bread crumbs from any savory bread recipe of your choosing that works with your diet. This version is quick, easy + delicious. Links to our Paleo + Low-Carb versions below.
-For the Paleo version, make sure to use plain almond milk and omit the cheese and add 1 tbsp Italian Seasoning + 1/4 tsp salt to the bread crumb mixture and then follow recipe as written. You can make bread crumbs from our Paleo Bread Recipe or our SCD bread Crumb Recipe.
-Low-Carb Version uses our SCD Bread Crumb Recipe. Keep in mind that the 2 3/4 tbsp of tapioca starch in this recipe will add about 26g of carbs to the entire recipe which is ten servings– this comes to 2.6g carbs per serving. You will have to factor in the carbs from the broccoli and almonds as well. Cheese and chicken is negligible. Overall, it's a good low carb choice.
-And feel free to mix and match ingredients, one of our favorite casseroles growing up was turkey and asparagus, for example, so yummy!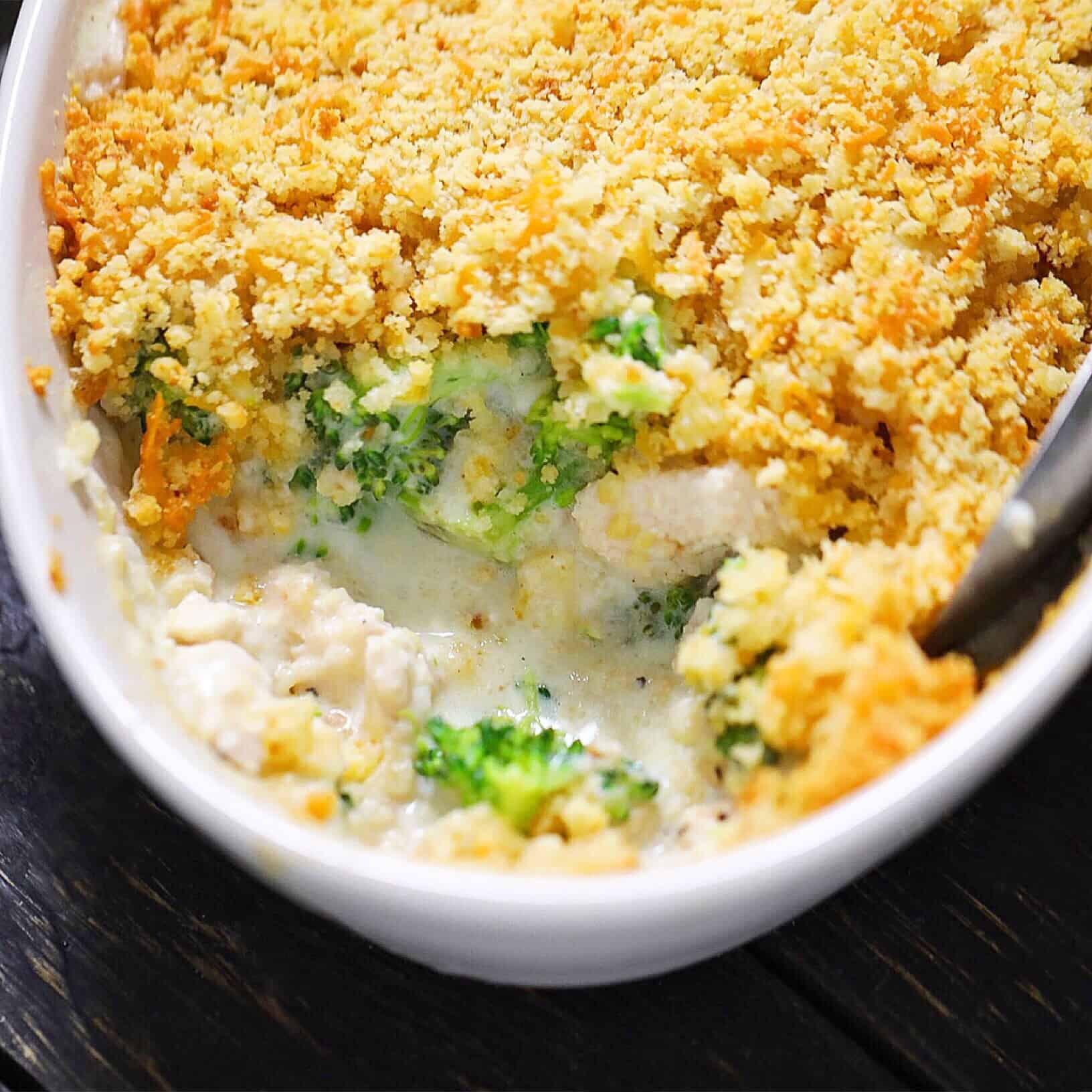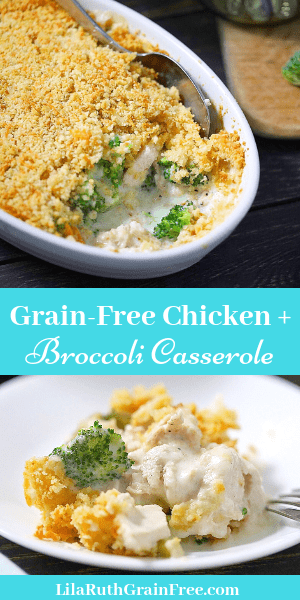 Happy Baking + Enjoy The Recipe!!😊
Print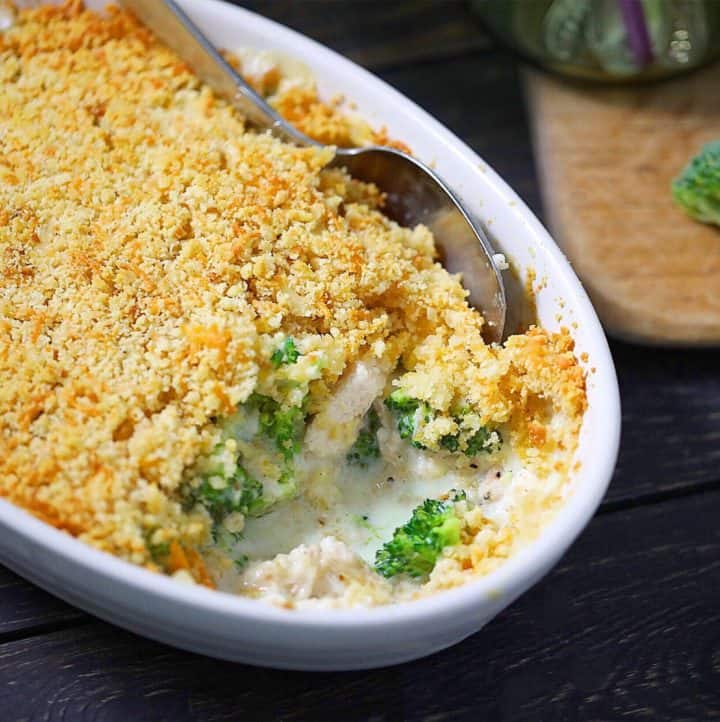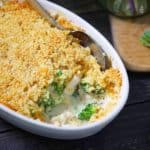 Grain-Free Chicken + Broccoli Casserole
---
Author:

Prep Time:

30 min

Cook Time:

35 min

Total Time:

About An Hour

Yield:

8

Servings

1

x
Description
7.3 net carbs per serving, nutrition facts below recipe
---
Scale
Ingredients
Chicken:

2

 

large chicken breasts (skinless + boneless)

1 1/2

 

teaspoons

 

lemon pepper

2 tablespoons

olive oil
Broccoli:

2

 

cups

 

broccoli florets (lightly cooked or blanched)

Topping:

3

 

cups

 

bread crumbs (we have paleo + low carb versions, see tips section in post above for links)

2

 

cups

 

shredded cheese (we use a blend of cheddar + parmesan) dairy-free can use "Daiya" brand. See tips section in post above for Paleo version.

1/2

 

cup

 

melted butter (or ghee), divided

Sauce:

2 1/2

 

cups

whole

milk or half + half for less carbs (plain almond milk or coconut milk for dairy-free)

2.5

 

tablespoons

 

tapioca starch

1/4

 

teaspoon

 

salt

1/8

 

teaspoon

 

pepper

1/8

 

teaspoon

 

paprika
---
Instructions
Preheat your oven to 350 degrees
Chicken: Place your chicken breasts in an 8×8 baking dish (or something similar). Brush the tops of your chicken breasts with olive oil and then sprinkle the lemon pepper over top. Place into the oven uncovered for about 30 minutes or until just cooked through.
Remove chicken from oven, place onto clean cutting board and slice into bite size pieces. Set aside.
Broccoli: Blanch or lightly steam broccoli florets, set aside.
Topping: In a large bowl, add your bread crumbs, shredded cheese and 1/4 cup of your melted butter. Toss until evenly incorporated. Set aside.
Sauce: In a medium to large pot, add your milk and 1/4 cup of melted butter. Turn your burner on low heat and warm the milk + butter while stirring until they are well combined. In a separate, small dish, add your tapioca starch. Take 1/2 cup of your warm milk/butter liquid and slowly whisk it into your tapioca starch. (The tapioca starch will act like corn starch + thicken the sauce). Add your tapioca/milk blend into the pot and stir until incorporated well.
Whisk vigorously and raise the temperature to medium heat. It is important for you to continue to whisk the liquid so it stays smooth and the tapioca starch does not clump. It will start to thicken in a minute or two. Once it reaches a full boil, remove it from the heat and add your salt, pepper + paprika. Add more to taste if desired.
Putting Casserole Together: Press half of your bread crumbs on the bottom of your casserole dish. Add your chicken + broccoli, then pour your white sauce over top. Finally, sprinkle the remaining bread crumbs evenly on top. Bake at 350 degrees for 35 minutes until golden brown and bubbling around the edges. (For low-carb + paleo version, cover for the first 20 minutes with foil, then uncovered 15). Serve hot and store leftovers in covered dish or airtight container + refrigerate. Enjoy!
Keywords: grainfree, glutenfree, paleo, lowcarb, casserole, chicken, dinner, recipe
This post may contain affiliate links, that means that I may receive a small commission if you make a purchase using these links. Income allows us to purchase products to test the recipes you see here! Thank you for your support.