These Grain-Free Soft Pretzel Bites are as addictive as they are delicious! An excellent appetizer, they satisfy that salty snack craving.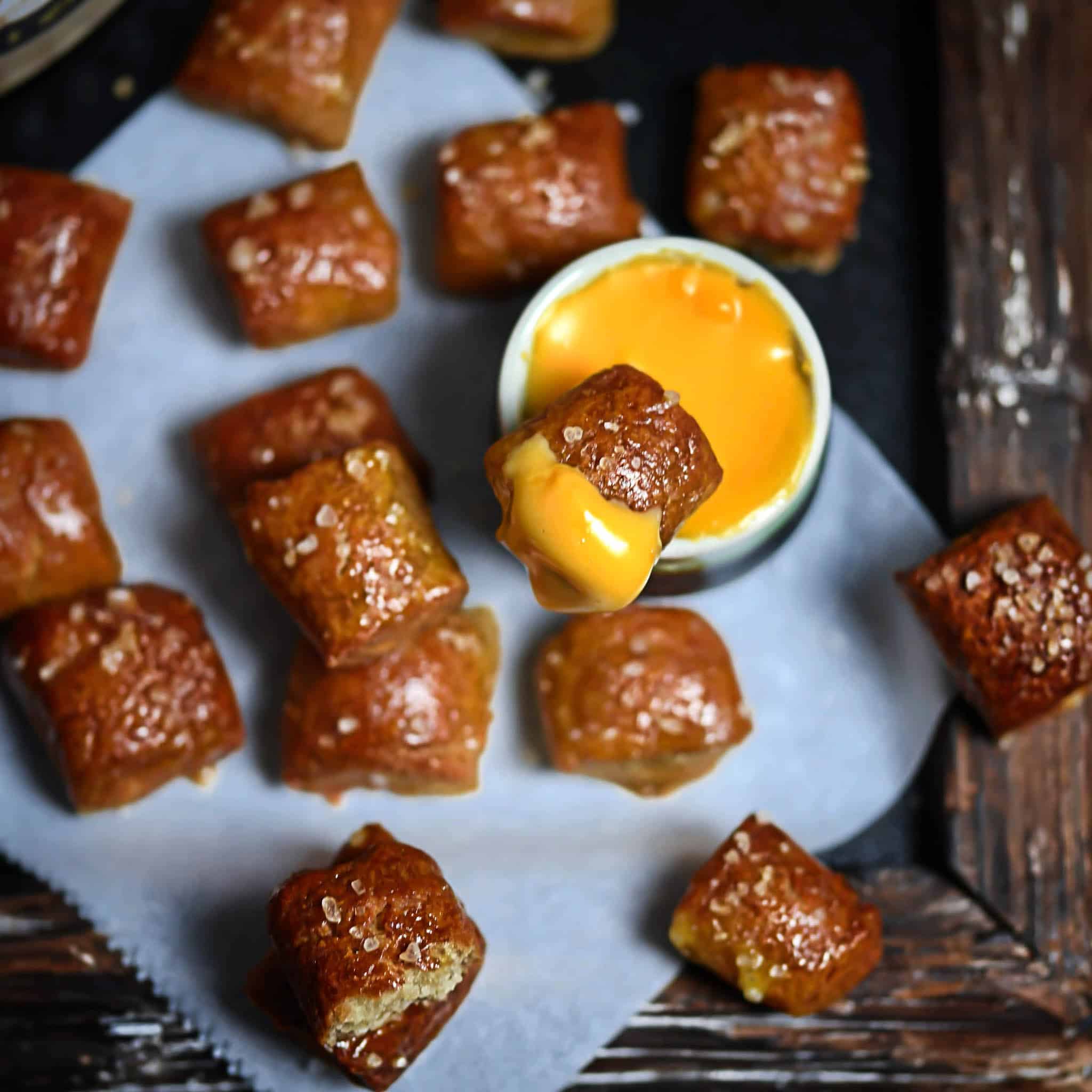 Hi friends, I seriously cannot wait for you to try these scrumptious pretzel bites! This has quickly become one of our very favorite recipes of all time– I was genuinely jumping around the kitchen, giddy with delight when we got that perfect batch!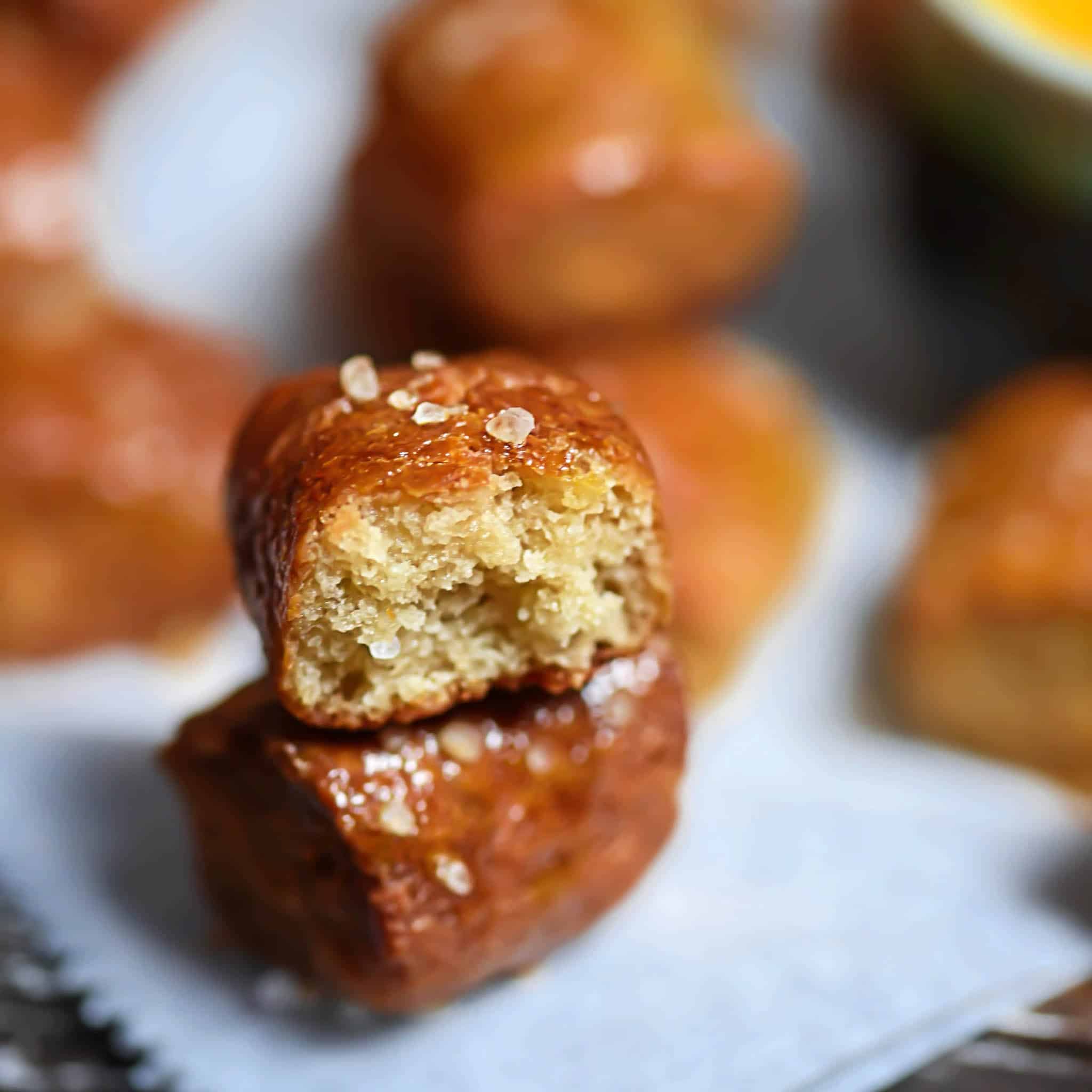 I've long been a fan of the soft pretzel, usually opting for them years ago in favor of popcorn at the movie theatre. That soft, salty chewiness is incredibly satisfying– one of the tastiest snacks around to be sure. And they're also heavenly when rolled in cinnamon sugar! We've added that option in the recipe, recommending a bit of dipping chocolate along side it.
I've included some instructional photos below to help guide the process, it's actually easier than you might think, just make sure to read through the directions ahead of time–that saves you any hassle and allows you to have fun with it!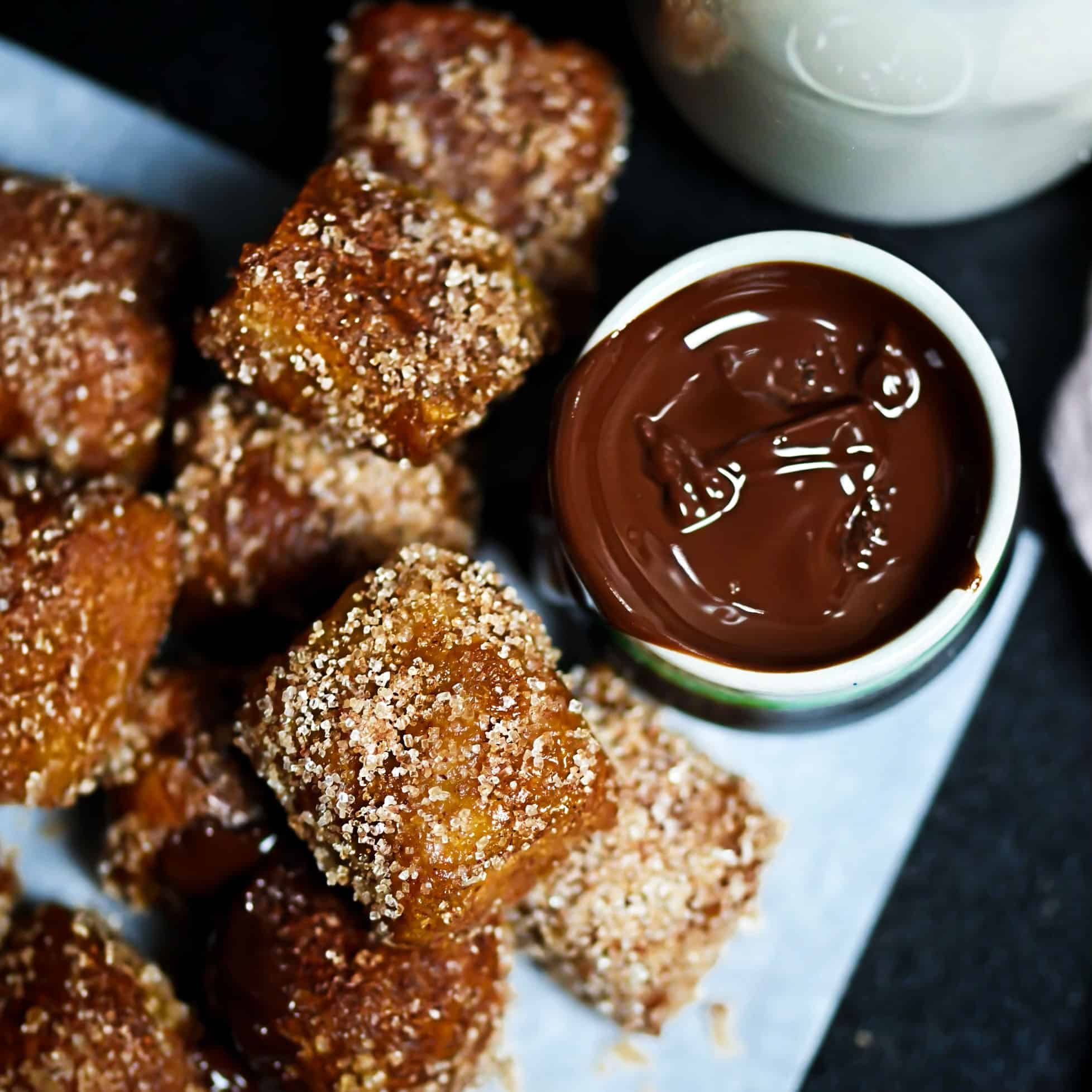 How We Make Our Soft Pretzel Bites
-After you whisk together the dry ingredients and add the liquid and bloomed yeast, you'll combine them until a sticky dough begins to form. After the dough has rested and thickened a bit, you shape it into a disc and cut it into fourths.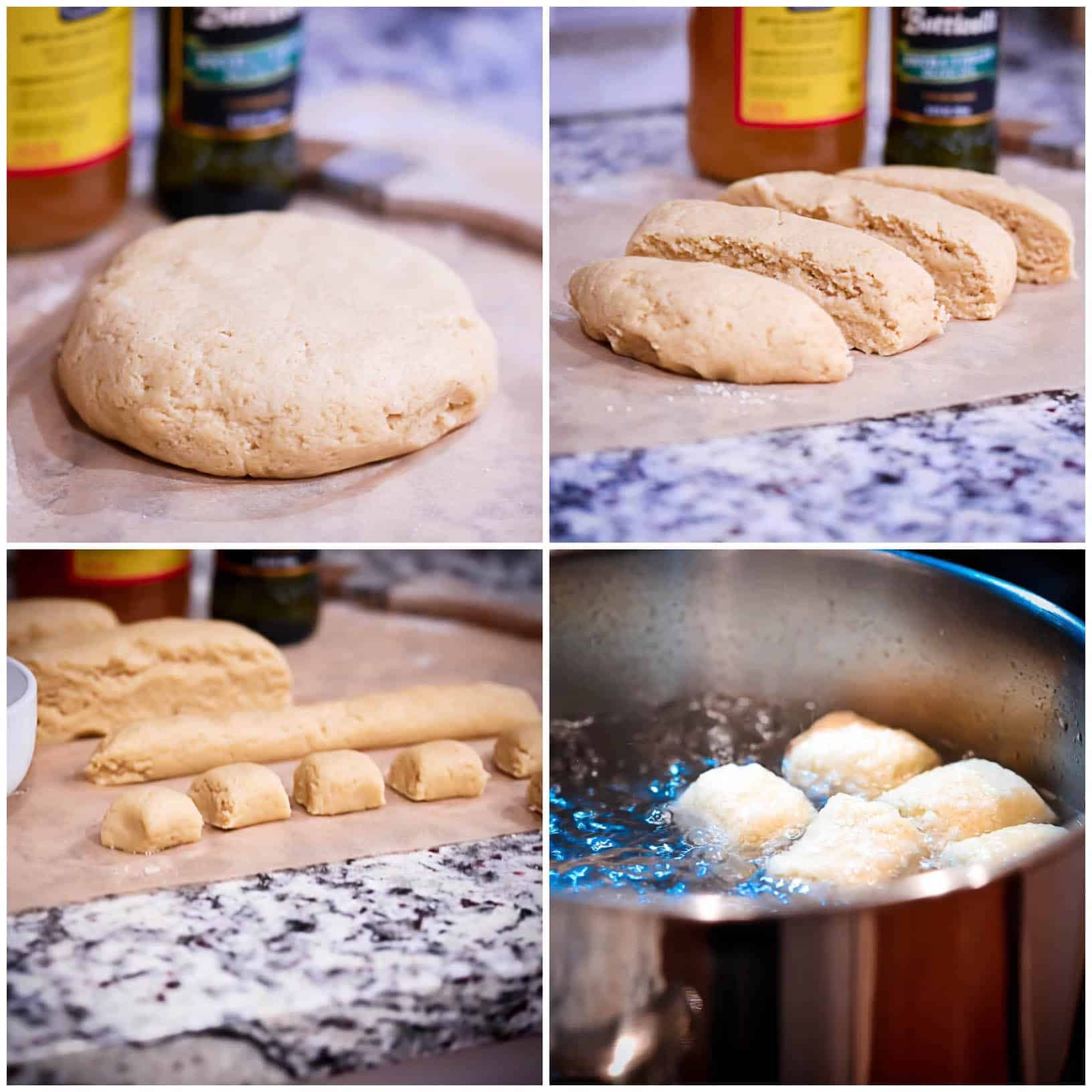 -Having a dish of water by your working station to mend any cracks in the dough, roll each fourth out into a snake shape and cut into bites. You will add them to the boiling baking soda water with a slotted spoon, 5 at a time. You'll have about 30 altogether.
-Using the same slotted spoon, gently scoop them out of the boiling water after 50 seconds, place them on parchment paper. Brush lightly with egg wash and sprinkle with coarse salt.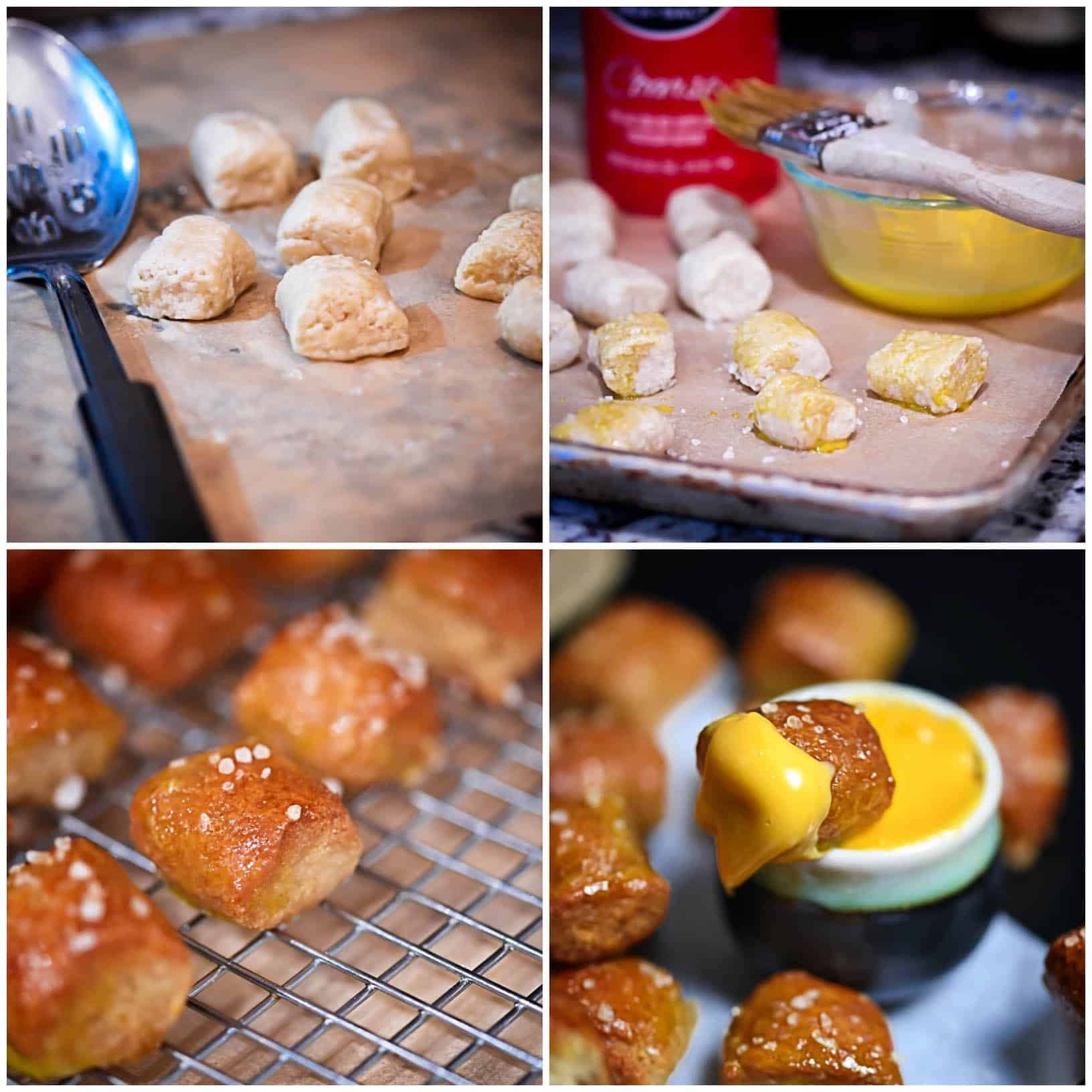 -Bake at 350 degrees for 20 minutes until golden brown. Cool 12 full minutes before serving. They'll still be a bit warm and perfect for dipping!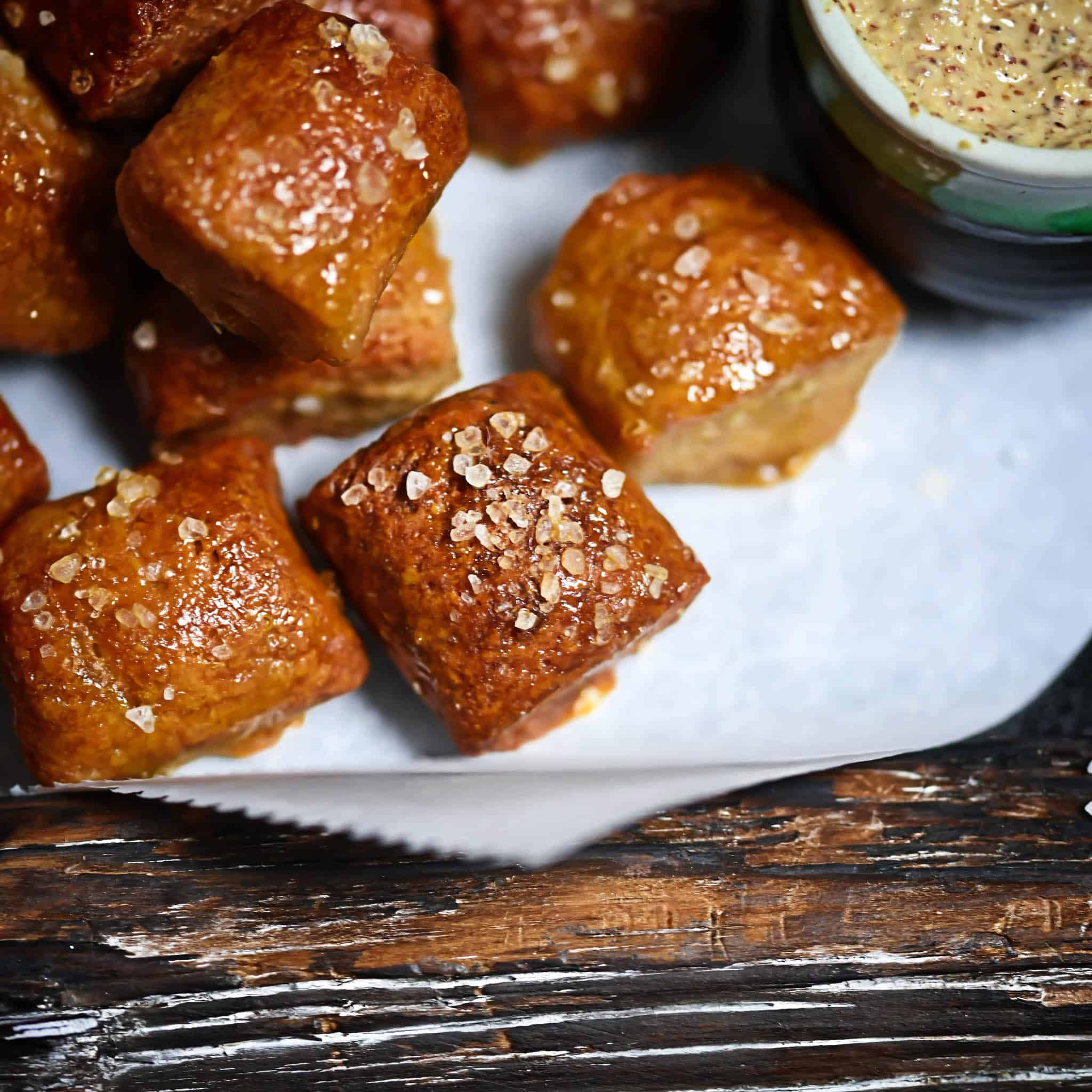 Happy Pretzel Making! We hope you love the recipe, if you do, we think you might also enjoy our Grain-Free Cheesy Bread Sticks!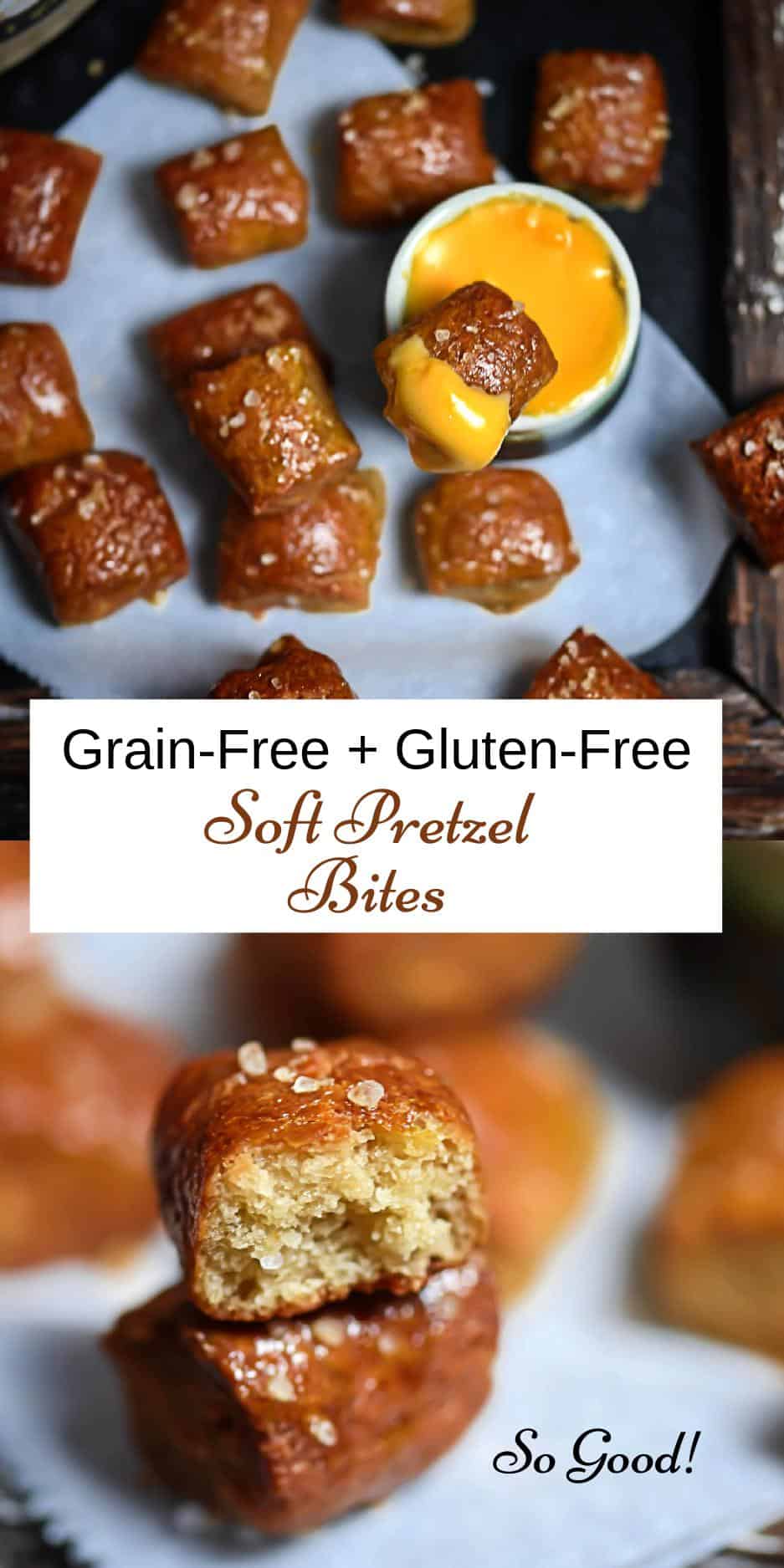 Print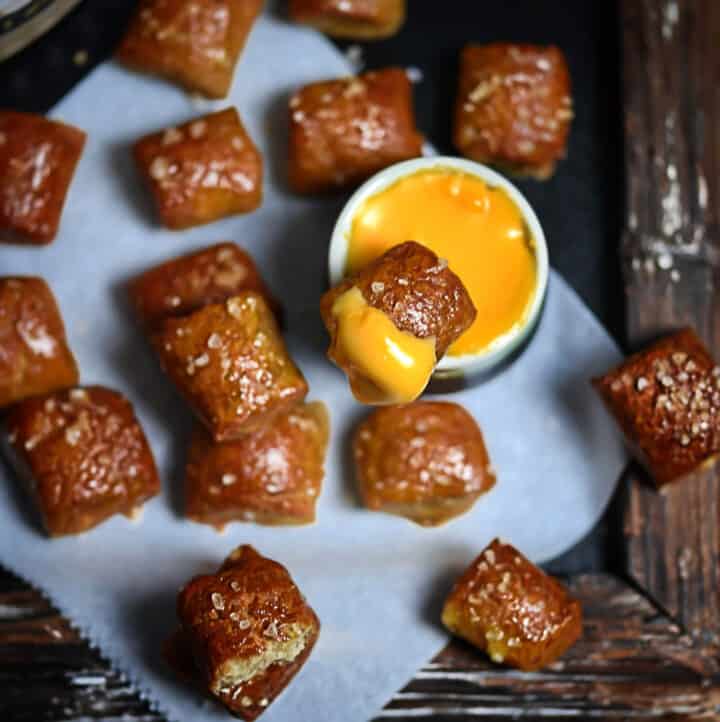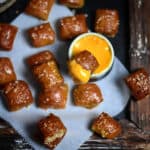 Grain-Free Soft Pretzel Bites
---
Author:

Prep Time:

25 min

Cook Time:

20 min

Total Time:

about 45 min

Yield:

about

30

bites

1

x

Diet:

Gluten Free
Description
**See instructional photos in post above for guidance.
**Read through ingredients + instructions first for a stress-free baking experience.
---
Pretzels
1/4 cup

+ 1.5 tablespoons lukewarm milk (for dairy-free, use plain soy, coconut or almond milk).

1

packet yeast we used Fleischmann's Rapid Rise Yeast

1 teaspoon

sugar

1

+

3/4 cups

 almond flour

1 cup

 tapioca starch

1 teaspoon

 guar gum

1.5 teaspoons

baking powder (Hain brand is grain-free)

1/2 teaspoon

baking soda (you'll need an additional

1/4 cup

of baking soda for the pot of water).

1/8 teaspoon

 salt

1

egg

2 tablespoons

olive oil

1 tablespoon

 apple cider vinegar
egg wash (1 yolk stirred with 1.5 tbsp milk or water).
water for boiling
coarse salt
mustard or cheese sauce for dipping
Cinnamon Topping (optional)
1/2 cup

sugar

1 tablespoon

cinnamon

1/4 teaspoon

salt
---
Instructions
Preheat oven to 350 degrees
Place a piece of parchment paper onto a baking sheet, set aside. Place another sheet of parchment paper on the countertop, you'll use that for the dough. Place a third sheet by the stove (not too close) with a slotted spoon, you'll place your bites there to drain after they boil.
Activate the yeast: place your lukewarm milk into a small bowl and sprinkle yeast over top. Then sprinkle the sugar on top of the yeast and let it stand and activate for 10 minutes- we set a timer. While you're waiting, you can go ahead and mix together the dry ingredients.
In a large bowl, whisk together the almond flour, tapioca starch, guar gum, baking powder, baking soda and salt until very evenly combined.
Add the egg, activated yeast/milk mixture, olive oil and apple cider vinegar. Use your hand to bring the wet ingredients into the dry–a very sticky dough will start to form as you mix, it will be a bit loose at this point. Scrape the dough from your hands, then take a moment to wash your hands of any excess and let the dough stand for 5 minutes, it will thicken a bit.
After you've washed and dried your hands, return to your dough and shape it into a disc. Set the disc of dough into the middle of the parchment lined baking sheet.
Use the photos in the post above as a guide. With a large knife, slice the dough into four sections.
Take a moment to put a pot of water on to boil. Fill the pot a little over half way full. When it nearly comes to a boil, you're going to add 1/4 cup of baking soda to the water–this is what will help give the pretzel bites a darker color when they're baked. Make sure to add the baking soda a bit at a time because it makes the water bubble up, you don't want it to overflow onto your range. You'll want the baking soda water to come to a medium boil.
Rolling out the dough: having a small dish of water by your working station to mend any cracks in the dough, roll each fourth out on the parchment paper into a snake shape and cut into small bites. Again, you can look to the photos in the post above as a guide. You'll have about 30 bites altogether.
With a slotted spoon, lower five bites into the boiling baking soda water. Let them boil for 50 seconds, then gently scoop them up with the slotted spoon and place them on parchment paper to drain. Repeat with the rest of the bites.
Once you have all of the bites boiled, carefully transfer them to your parchment lined baking sheet.
Brush them lightly with the egg wash and wipe any egg drippings from the parchment, you don't want cooked egg with your pretzels ;).
Sprinkle coarse salt over the pretzels. (If you're making the cinnamon version, sprinkle your cinnamon/sugar/salt mixture over top. Alternatively, you can brush them with butter after they've baked and roll them in the cinnamon sugar for richer taste). I recommend doing half the batch salty and half the batch sweet.
Place your bites into a preheated oven and bake at 350 degrees for 20 minutes. You may find that some are more brown than others at this point. We take the baking sheet out of the oven, use tongs to transfer the golden brown bites onto a cooling rack and place the rest back in the oven for an additional few minutes until they have also reached a golden brown color.
Let the bites cool for 12 full minutes, this is important as the inner texture will be changing as it cools. They'll still be a bit warm and at just the right texture at the 12 minute mark.
While you're waiting for them to cool, go ahead and get your dipping sauces ready. We love a hearty, grainy mustard and you can choose your favorite cheese sauce. And a little dish of melted chocolate is heaven with the cinnamon bites.
Serve and enjoy! They are best served fresh but you can store leftovers in an airtight container to lock in the moisture, and then pop them in the microwave for a few seconds to reheat. Enjoy!
Category:

grain-free

Method:

Baking

Cuisine:

Soft Pretzels
Keywords: grainfree, glutenfree, dairyfree, soft pretzels, bites, snacks, appetizers, party food, football, cheese, mustard, chocolate, cinnamon, sugar, homemade
This post may contain affiliate links, that means that I may receive a small commission if you make a purchase using these links. Income allows us to purchase products to test the recipes you see here! Thank you for your support.