Grain-Free Magic Shell Funfetti Cupcakes
These Grain-Free Magic Shell Funfetti Cupcakes are the stuff dreams are made of! Incredibly scrumptious and such fun to make, perfect for any unicorn and rainbow aficionado.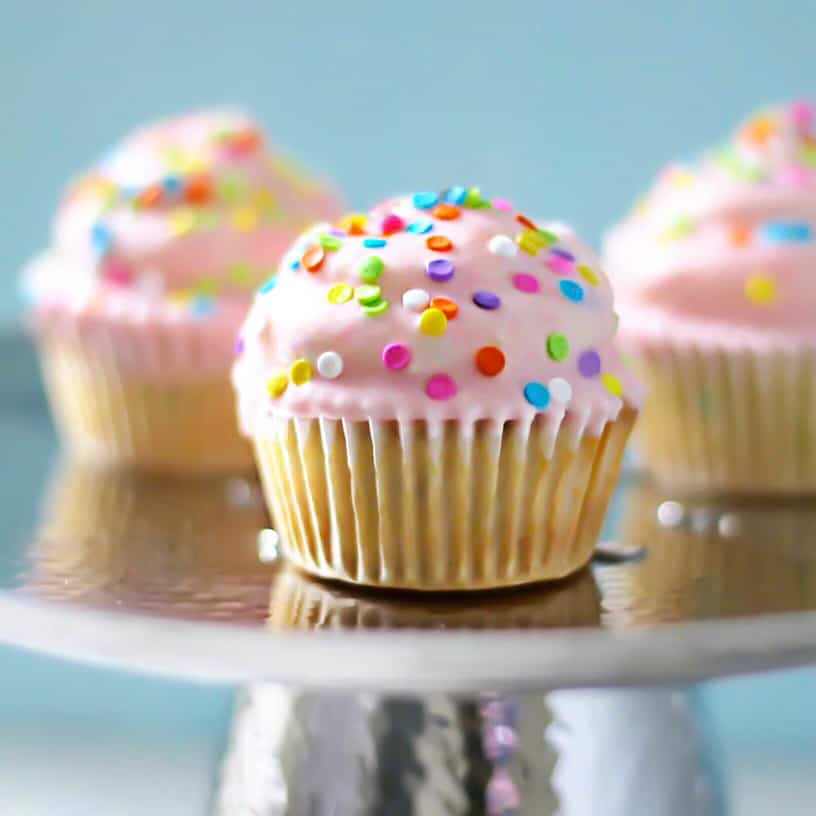 Grain-free, Dairy-Free option 🌈
It's party time! We've made every excuse in the book to keep making these Gluten-Free magical cupcakes; New Year's Eve, Anniversary, Birthday Party, Finished Cleaning The House Party– you get the idea–or you will you after you take your first bite!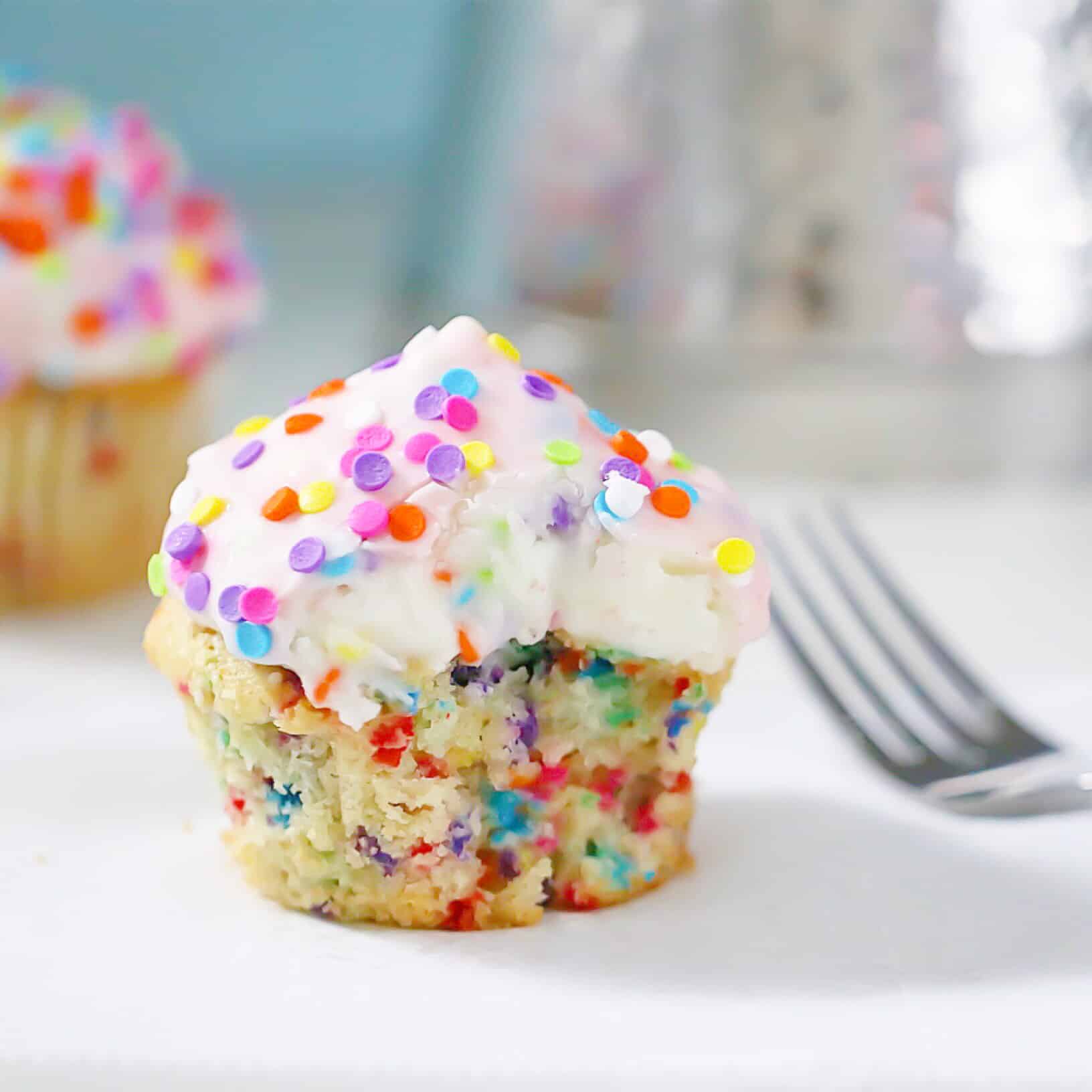 But full disclosure here–these are not meant for every day. They are rich indeed. But rich treats such as these and say donuts or cheesecake are wonderful in moderation!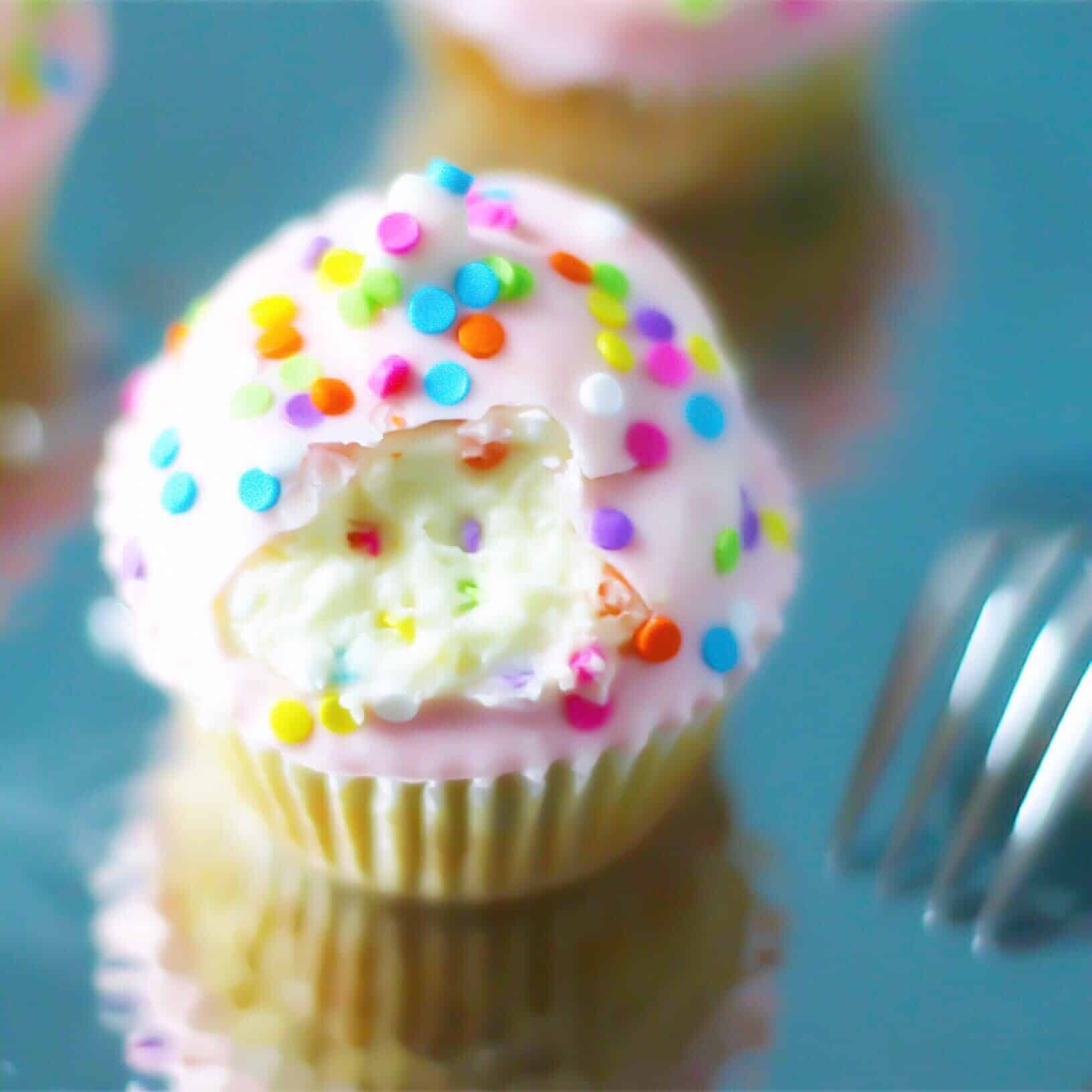 And what a treat these are to make! Grab your little helpers and get baking! They'll love dipping the funfetti cupcakes into the magic shell + decorating them with pastels. Your kitchen will pretty much look like a unicorn paradise. 😉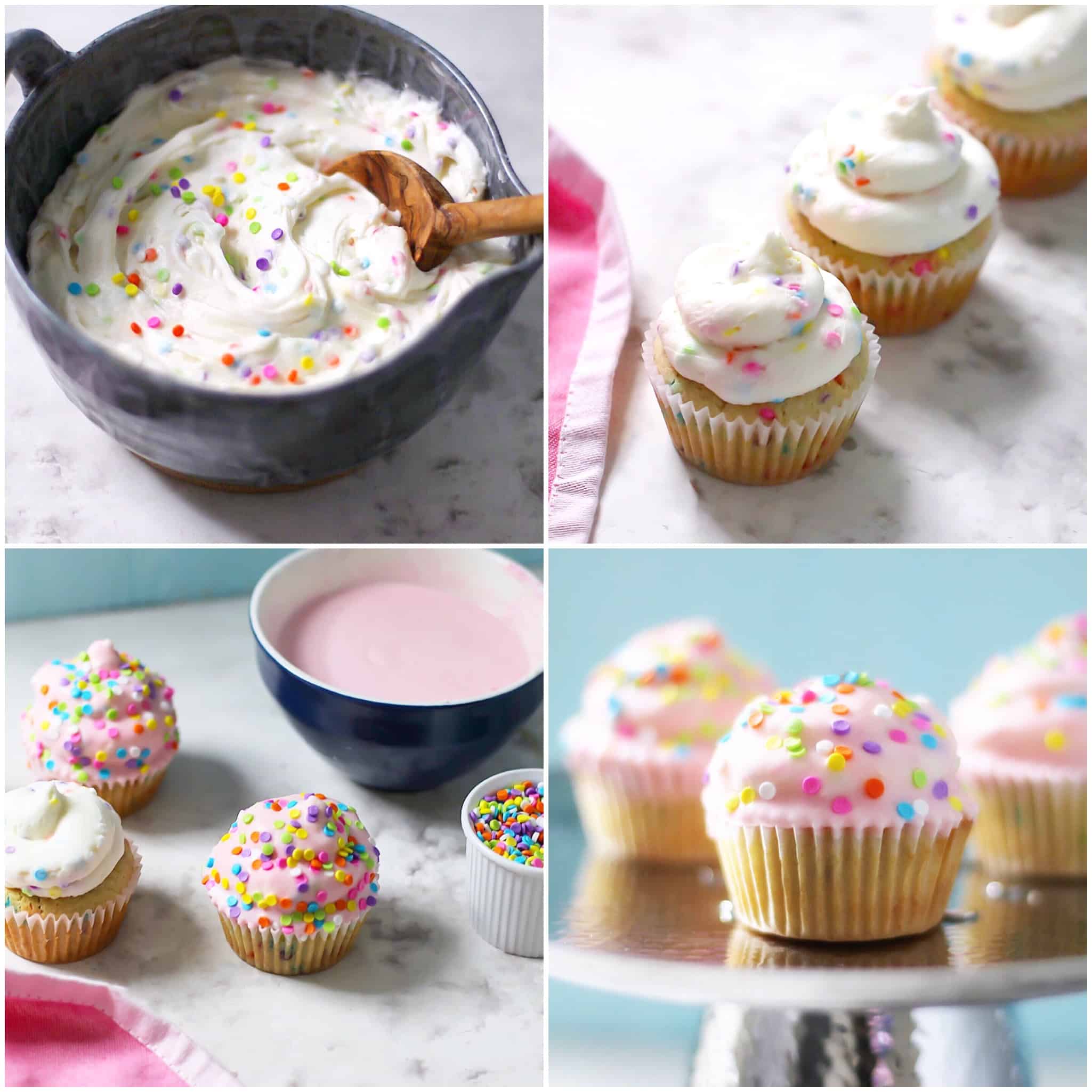 But the best thing about these cupcakes is the taste–they are moist, springy with delicious vanilla funfetti flavor, perfect for any special occasion.
We have some tips for you today:
-This recipe is also wonderful without the magic shell, if you prefer to make a more traditional funfetti cake or cupcakes.
-For the dairy-free version, use almond milk and Earth Balance Spread in place of milk and butter. Also, instead of white chocolate chips, use dairy-free Enjoy Life Chocolate Chips. In this case, I recommend coloring your frosting pink. It will look beautiful under the dark chocolate shell!!
-Here is the vegan version of our grain-free funfetti cupcakes.
-Here are gluten-free dye-free "Jimmies" for the cupcakes and these gluten-free "Pastels" for the topping. You can use any variety of "jimmies" for the cupcakes just make sure you don't use round sprinkles, as the colors will bleed and look muddy.
-If you cannot tolerate the cornstarch in the sprinkles, I would recommend making your own grain-free "jimmies". A quick google search will lead you to some great recipes.💕
-You can find natural food coloring here.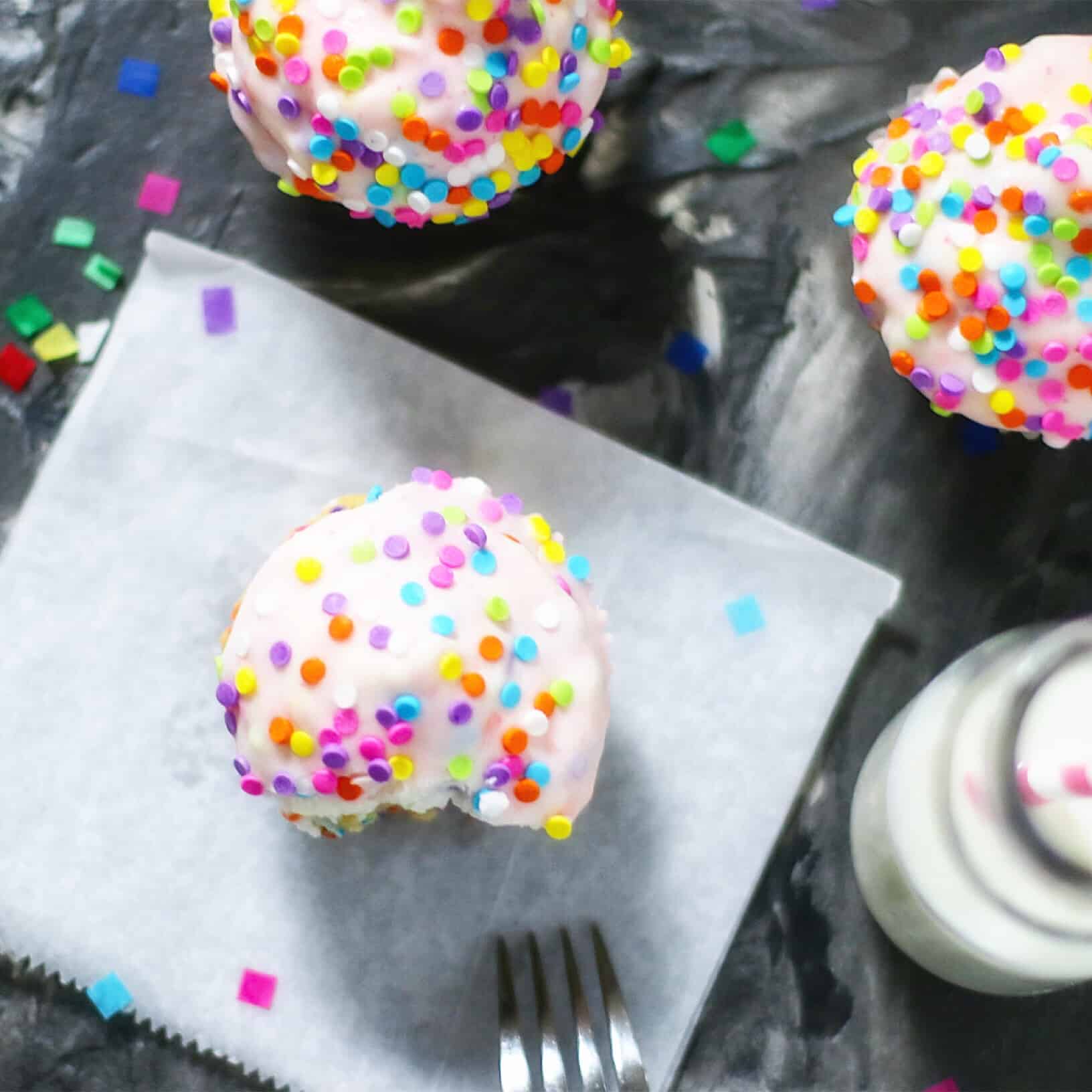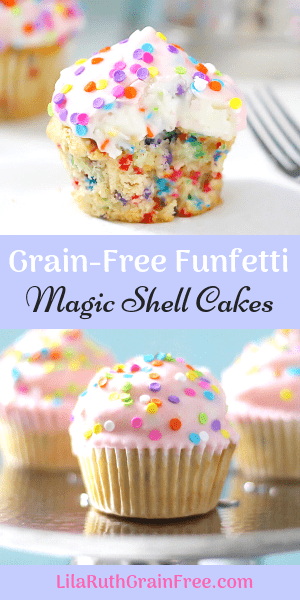 Enjoy the recipe + Happy Baking! 😊
Print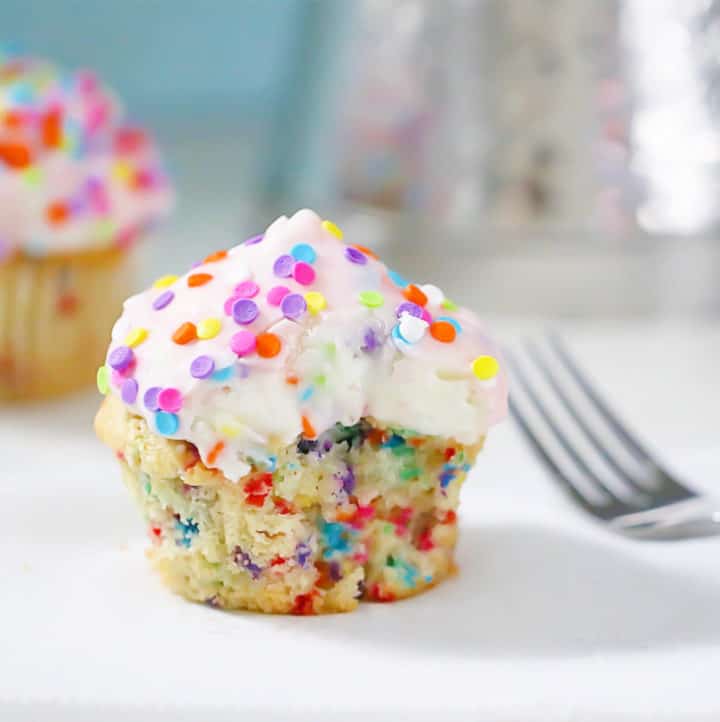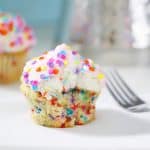 Magic Shell Funfetti Cupcakes
---
Author:

Prep Time:

45 min

Cook Time:

25-30 min

Total Time:

about 1.5 hours

Yield:

12

cupcakes

1

x
2

cups

almond flour (Bob's Red Mill)

3/4

cup

tapioca starch (or potato starch)

1/2

sugar

1/3

cup

"jimmies" (Color Kitchen brand is GF–link in post above)

1/2

teaspoon

baking soda

1/2

teaspoon

baking powder (Hain brand is grain-free)

1/2

cup

milk or plain almond milk

1/4

cup

olive oil

1

egg

2

tablespoons

apple cider vinegar

1

tablespoon

vanilla extract (clear vanilla for light color cupcakes)

FROSTING:

4 1/2

cups

powdered sugar (Wholesome! brand is grain-free)

2/3

cup

butter or Earth Balance

2

tablespoons

milk or plain almond milk

1

tablespoon

vanilla extract (clear for lighter color)

1/4

teaspoon

salt

Color Kitchen Jimmies or Olive Nation Pastels (link in post above).

MAGIC SHELL:

1

twelve ounce bag white chocolate chips

1/4

cup

coconut oil

a couple drops of pink food coloring, if desired. (Natural option in post above).
---
Instructions
Preheat oven to 350 degrees.
In a large bowl, whisk together almond flour, tapioca starch, sugar, "jimmies", baking soda and baking powder.
Add milk, olive oil, egg, apple cider vinegar and vanilla extract to your dry mix. Blend until smooth.
Pour batter into your cupcake liners a little over half way full. Place cupcake tin into oven, bake at 350 degrees for 20-25 minutes. You can gently place foil overtop at about 15 minutes in, it will keep the cupcakes lighter in color and keep the tops a bit softer.
While your cupcakes are baking, blend together your frosting ingredients until smooth and place into a large piping bag or large ziplock bag with and inch cut off the tip.
Cool cupcakes completely on a wire rack. After they're cooled, swirl frosting on top with piping bag. Place cupcakes into freezer for 15-20 minutes until icing hardens.
Meanwhile, in a small, microwave safe bowl, add in your white chocolate chips and microwave at 30 second intervals, stirring at each interval until melted and smooth. Add in coconut oil and stir again until smooth. Finally, add your food coloring, if desired and blend into chocolate well.
Take each chilled cupcake and dip it into the magic shell, letting the excess drip off the side. Sprinkle with "jimmies" or pastels and place each one in the freezer to set up, about 5 minutes.
Remove from freezer and serve or store in an airtight container until time of serving. Enjoy!!
Keywords: grainfree, glutenfree, funfetti, cake, cupcakes, birthday, party